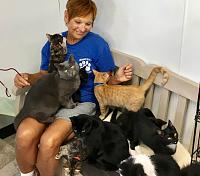 Ready to make a difference in the community?
Save a life...
Volunteer at YOUR Humane Society SPCA
!
There's much to do in addition to walking dogs & cleaning litter boxes. Our volunteers help with admin work & data entry, socializing animals & basic obedience, fundraising, animal bathing & grooming, maintenance of our campus (minor repairs & landscaping), food distribution and pick ups of donations, etc.
Typically, the first Saturday of each month we hold our Volunteer Orientation at 10:00 A.M. at our campus office: 994 CR 529A, Lake Panasoffkee, FL 33538. Fill out an application at
https://www.hsspca.org/volunteer
.
Please call us at 352-793-9117 to reserve your space. (There is a $10.00 fee to get your volunteer t-shirt and whistle.)
YOUR Humane Society SPCA, formerly known as the Humane Society/SPCA of Sumter County, Inc., is a 501(c)3 non-profit, no-kill organization helping animals in need throughout their local communities. Donations directly help to cover the cost of saving, treating and caring for neglected, abused and abandoned animals. Learn more about them at hsspca.org, 352-793-9117, on Facebook or visit us at 994 CR 529A, in Lake Panasoffkee. Office open: Mon.-Fri. 7:30am-4:00pm, Sat. 9:00am-4:00pm. Kennel Pet Viewing: Mon.-Sat. 9:00am-3:30pm. Visitors are always welcome!