Ad category
: Real Estate For Rent
Location
: Real Estate For Rent
Price
: $0.00
Beautiful 2 bedroom, 2 bathroom villa!
**GOLF CART INCLUDED!!!**
Located in the heart of The Villages, in the village of Fernandina, come stay at our perfect vacation home. Right in between the lively town squares of Brownwood Paddock Square and Lake Sumter Landing, there are bountiful options for golf, recreation, and entertainment within just a short golf cart ride.
Availability and Rates
January: booked
February: booked
March: booked
April: NA
May: NA
June: $1100/month, $325/week
July: $1100/month, $325/week
August: $1100/month, $325/week
September: $1400/month, $400/week
October: $450/week (weekly only available)
November: $550/week (weekly only available)
December: $2200/month, $600/week
Taxes, utilities, Direct TV, high speed Wi-Fi, trash, lawncare included.
Cleaning Fee: $100
A small, well-behaved dog is welcome with a pet cleaning fee of $100 in addition to the standard cleaning fee. The dog must be house trained and it must be disclosed on the rental agreement.
This isn't your average, 'bare bones' investment rental. This is where our family stays when they come to visit. It is furnished with quality linens, furniture, and kitchen equipment. 47′ flat-screen TV in the Living Room, 31′ and 39′ flat-screens mounted on the wall's of the two bedrooms.
The village of Fernandina is a great location if your looking to spend some time in The Villages. Near numerous rec centers and swimming pools just minutes away, as well as the Driving Range and golf practice facility. Shopping and restaurants aplenty, too.
Front Lenai
Side Patio-area with GRILL
Laundry
Well-furnished Kitchen
Garage fits the included golf cart and a car
DirectTV and a Roku (use your own Netflix, HBOGO, etc.)
High-Speed Internet
STAYS UP TO 6 People — no extra $ for more than 2 guest like most other rentals in The Villages (sofa bed in the Living Room)
GAS GOLF CART
Tandem Bicycle
The post
Villa for Rent
appeared first on
Talk of the Villages
.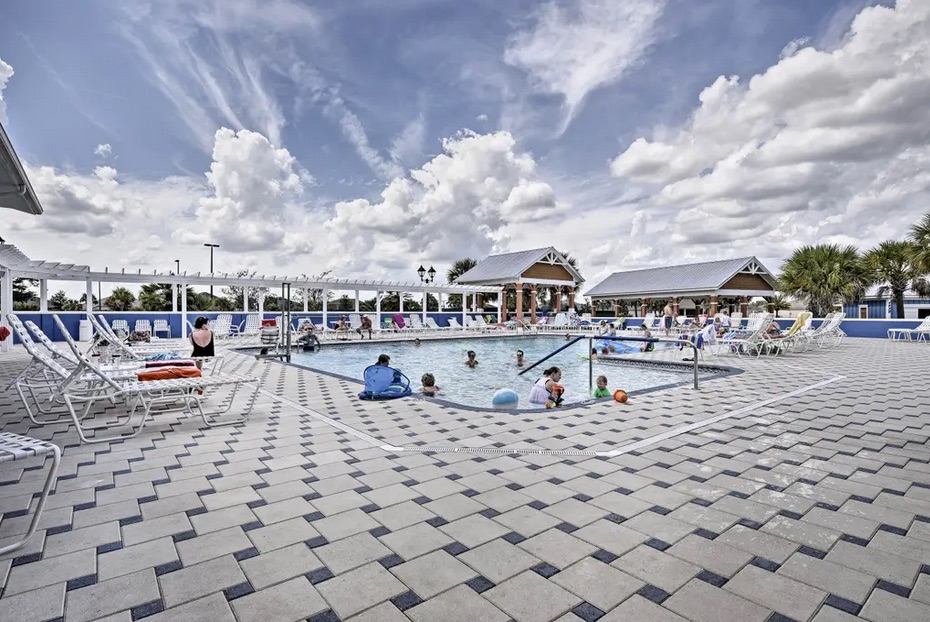 More...