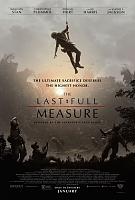 I think I was traveling when this movie came out. Redbox had a two for one deal yesterday so I grabbed it.
Stellar cast and script based on a true story of how the Medal of Honor was awarded to Air Force PJ William H Pittsenbarger 32 years after being killed while saving the lives of many soldiers of The Big Red One caught in an ambush in Vietnam. A Pentagon staffer named Scott Huffman risked his career after investigating the incident and went public after roadblocks were put in his path.
Highly recommended if you have not seen it.