The science behind sinkholes:
Sinkholes are cavities that form when water erodes an underlying rock layer. When water dissolves the rock soil, it becomes acidic and creates karst.
There are two types of sinkholes:
When the roof of a cave collapses and exposes the underneath cavern.
When water dissolves the rock soil and creates an underground chasm
Florida and sinkholes:
Did you know Florida's earned the nickname Sinkhole Alley? In 2017 alone, there were a recorded 32 sinkholes throughout the state.
Why is Florida a hot spot for sinkholes?
A majority of Florida's bedrock consists of limestone; a soluble rock that erodes from water.  Sinkholes can be caused by nature and humans. A major sinkhole contributor from nature is water concentration in the soil. Moist soil stabilizes the effect on karst, and as a result, droughts or heavy rain can upset this balance, leading to sinkhole formations.
Aside from natural causes, humans also play a role in the creation of sinkholes. A growing population means an increase in construction.
The triggers from humans can include:
Bulldozers or equipment that move earth.
Parking lots and roads that divert rainwater.
Weight of buildings.
Pumping of ground
The Villages Florida and sinkholes:
The Villages Florida is located within "Sinkhole Alley". Local news outlets report on various sinkhole openings throughout the year. Causes of sinkholes in The Villages could result from things such as:
A construction boom in The Villages that leads to more human impact to the soil.
New land purchases that could result in 20,000 more homes
http://www.dailycommercial.com/news/20170316/villages-to-develop-as-many-as-20000-homes-near-wildwood
Another area of land could lead to 8,000 homes being completed
https://www.orlandosentinel.com/news/lake/os-the-villages-leesburg-growth-20180122-story.html
Construction of more golf courses in The Villages may also lead to sinkholes.
Retention ponds on courses can leak into karsts leading to sinkholes
Irrigation of numerous golf courses may cause issues.
Irresponsible usage of water
Water permit in 1991 was 65 million gallons a year. In 2017, this spiked to 12.4 billion.
How likely is it for a sinkhole to open in my neighborhood in The Villages?
All the talk about sinkholes can be stressful, but don't worry too much. Clint Kromhout, from the Florida geological survey, received $1 million in federal funds to travel around the state to verify sinkholes and create a predictive map of places of "relative vulnerability." During an interview with the Atlantic, Kromhout noted, "I am doubtful that sinkholes are occurring any more frequently than any other time with Florida's recent geologic past."
His map can be seen below. Sumter County is outlined in white.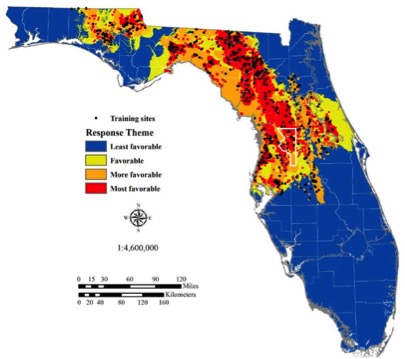 Insurance and sinkholes in Villages
Did you know the annual damage from sinkholes is 300 million? Not much funding goes into research for sinkholes, as the state pushes most of its funding to other natural disasters such as tsunamis, hurricanes and flooding. However, there are insurance options for sinkholes. Whereas most states do not cover insurance for sinkhole damage, Florida covers "catastrophic ground cover collapse" and will cover if the insured's house or property is damaged due to a sinkhole.
One thing Villagers should be aware of are scammers who try to get thousands out of people by scaring them into believing they are living on a sinkhole about to happen by pointing out cracks in the sidewalk.
Things to note:
All insurance companies licensed to do business in the state of Florida are required to include Catastrophic Ground Cover Collapse coverage in their policies.
Under Florida law, "catastrophic ground collapse" is defined as geological activity that results in all of the following:
o   The abrupt collapse of ground cover
o   A depression in the ground cover that is clearly visible to the naked eye
o   Structural damage to the building including the foundation
o   The insured structure being condemned and ordered to be vacated by the government agency authorized by law to issue such an order for that structure.
In recent changes, structural damage which is not as severe has been written out of most insurance plans.
The Villages Florida Sinkhole Resources:
https://www.bcnlawvillages.com/practice-areas/sinkholes/
https://www.smithsonianmag.com/science-nature/science-behind-floridas-sinkhole-epidemic-180969158/
https://www.theatlantic.com/technology/archive/2014/08/why-are-there-so-many-sinkholes-in-florida/378869/